Management philosophy
Basic philosophy
Creation of Security
By providing advanced technology and reliable products, we are contributing to the realization of both human happiness and secure societies.
---
Our Mission
Our responsibility and significance for existence,
showing what IBARA SEIKI wants to achieve through its business,
and what value it provides to society
With inspiring innovative technology and service,
we will create a sustainable future full of smiles.
Inspiring feeling

Strong emotion with a passion to go beyond expectations by two stages

Innovative technology

Overwhelming technology that surpasses other companies; fusion of unique technology cultivated over many years and new technology; completely new technology that is not bound by existing methods; technology that leads to new business development.

Innovative service

Providing new proposals and things that are not bound by conventional manufacturing boundaries.

Sustainable future full of smiles

By resolving issues of the global environment and society as in SDGs, we will continue to create a future full of smiles around the world.
---
Vision 2030
IBARA SEIKI's ideal aimed through the pursuit of its mission
a company that brings people together full of smiles
a company that continues to create new social and economic values
a company where employees grow vigorously through learning, thinking, and challenging
We aim to be a company that brings people together full of smiles, that leaves no one behind, and connects with employees, families, customers, partners, suppliers, shareholders, and local people through reliability and trust.
We aim to be a company that enhances company value and at the same time enriches the lives of its employees by resolving social issues in response to environmental changes, including environmental problems, and an aging and declining working population.
A company will never grow without the growth of its employees. We aim to be a company where employees can gain a sense of well-being, demonstrate significant growth not only as professionals but also as human beings by learning on their own, acting and thinking on their own, and boldly challenging new high goals.
IBARA SEIKI aims to be a company that will continue to grow together with employees.
---
Value we want our customers to find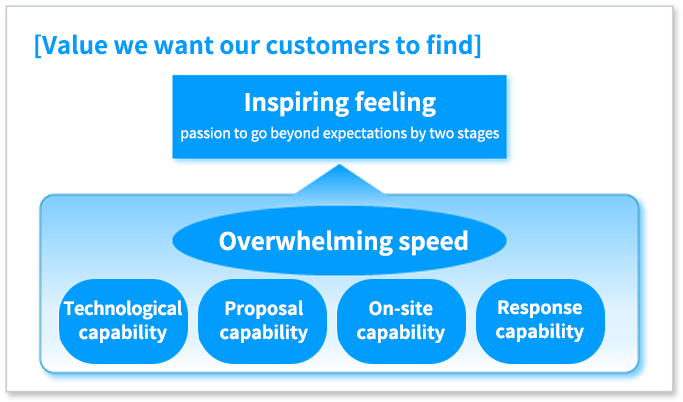 Overwhelming speed

Quickly delivering what customers want at higher-than-desired quality.

Technological capability and proposal capability

Serving as a consultant who can make contributions to customer quality improvement, productivity improvement, and cost reduction.

On-site capability

Making on-site locations where customers can feel safe and feel like working together.

Response capability

Ensuring one-stop service that saves customers time and effort and contributes to worker-hour reductions and cost reductions.
---
Basic attitudes /Our Sense of Values
Safety First

Safety should always come first…make our work place safe and efficient.

Quality as Top Priority

Pursue the best quality in our business.

Customer-Oriented

Keep the customer's perspective in our minds, we provide our technology and products rapidly and globally to meet their requests.

Happiness of All Employees

Provide opportunities for professional growth and support for happy, productive living.

Environmental Commitment

Manufacture considering environment.

Corporate Social Responsibility

Realize our responsibility as corporate citizens and abide by the high moral rules as well as laws and regulations.
---
Behaving Guidelines / Expected Values of All Employees
We will:
set high targets and accept bold challenges.
value teamwork based on free and frank communication.
pursue our work sincerely and carry out decisions resolutely.
be ambitious in acquiring specialized knowledge and skills as professionals.
get a wide range intelligence and work sincerely and conscientiously as members of society and our organization.