Robot SIer business
Robot SIer (Robot System Integrator) that can support small and medium-sized enterprises as a partner for the introduction of industrial robots
With an aging population, a falling birth rate, and a declining population, we have come to hear about labor human resource shortages.
The National Institute of Population and Social Security Research estimates that Japan's population, which was approximately 128 million in 2010, will fall to 116 million-odd by 2030, where there is concern about a further shortage of workers and a reduction in the labor force in the future.
It is predicted that: due to increased difficulties in recruitment, companies will not be able to acquire excellent human resources, and what is more, it will become difficult for them to secure the minimum number of required human resources and labor force.
As a measure against such shortages in labor and human resources, industrial robots are attracting attention. Although industrial robots have already been introduced and are actively utilized in major companies, the introduction of industrial robots in small and medium-sized enterprises has not yet advanced.
We aim to be a [Robot SIer (Robot System Integrator) that can support such small and medium-sized enterprises as a partner for the introduction of industrial robots].
 Introduction of robot
Utilization of robots offers many possibilities, such as:
improvement in labor shortages in companies,
freeing of workers from harsh and dangerous environments,
enhancement of productivity.
However, industrial robots cannot achieve the purpose of automation of work as discrete by [robots] alone.
They can function after completing some conditions like the followings :
Attaching hands to the tips of the robots;
Programing movements;
Constructing in combination with peripheral equipment and sensors for series of systems.
As a Robot SIer (Robot System Integrator), we consistently respond to all processes necessary for the introduction of robots, such as <<selecting a robot>> suitable for your work content from among various manufacturers, <<design and fabrication of hands and peripheral equipment>> as needed, and <<teaching the robot>> movements. Utilizing manufacturing technology and know-how of line construction, etc., cultivated at the home base of IBARA SEIKI Co., Ltd., we can make proposals that meet your requests.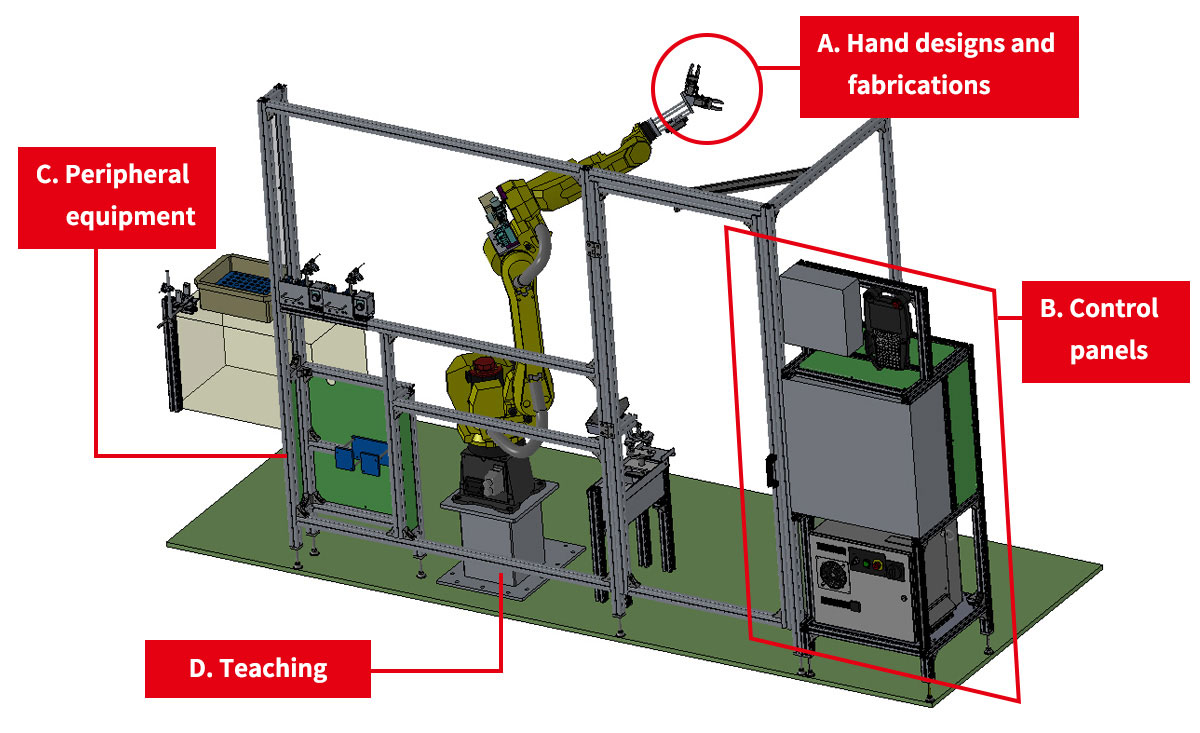 | Name | Explanation |
| --- | --- |
| A: Hand designs and fabrications | The act of [grabbing an object] is easy for humans but is not so easy for robots. Their hands need to be made in consideration of various conditions and states, such as appropriate position, holding method, holding posture, and material used, for the target workpieces. Also, since hands are parts in direct contact with workpieces and wear and tear are heavier than other parts, hand design and fabrication are performed in consideration of the ease of replacement, etc. |
| B: Control unit | For linking the movements of a robot and peripheral equipment, a control unit is programmed to interface, control, and manage each device. |
| C: Peripheral equipment | Necessary equipment around the robot is fabricated and prepared, including a safety fence, quality check sheet, and washing equipment. |
| D: Teaching | Since robots are equipment with an extremely high "degree of freedom of movement," there are cases where even complicated operations may be covered by one robot depending on programming. However, the robot is just a lump of iron unless it is taught movements. It cannot be utilized as a "robot" until it is taught intended movements. |
Flow of introduction of an industrial robot
After confirmation of the contents of robot movements and processes, a 3D simulation is created. Clarification of completed form each other's imaging by reconfiguring the simulation until customer satisfied can fill the gap.
Based on the 3D simulation, specifications are prepared and a quotation is submitted.

If there are no problems with the specifications and quotation in STEP 1, the robot is prepared after the order from the customer.

Hands and peripheral equipment are designed and software is developed.

Once the robot arrives at Ibara Seiki, a virtual space based on the delivery location is reproduced, and teaching is performed after installing the hands, peripheral equipments, etc.

Meeting the delivery date, the robot is carried into customer's plant and is installed and final teaching is performed there. (We also respond to specification changes and additions by consultation. > STEP 3)

Completing the delivery by confirming robot moves as per specifications.
We are a member of the Japan Factory Automation & Robot System Integrator Association. Click here for details.